This is the second week in a row we have had a wonderful volunteer! Thank you Stephanie for coming to town to help out with Lunch Bunch!
Like always we started Lunch Bunch with a quick trip to Smart & Final.
Ana and Stephanie picked out the best produce, meats and bread that we could find.
Next it was off to create sandwiches. It was great to have an extra set of hands in the kitchen.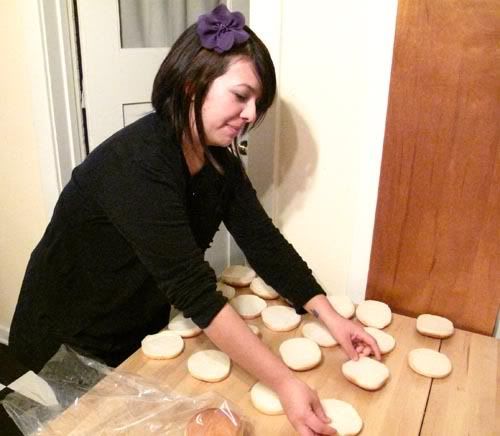 While Ana and I were slicing and dicing Stephanie was laying down the cheese and mustard.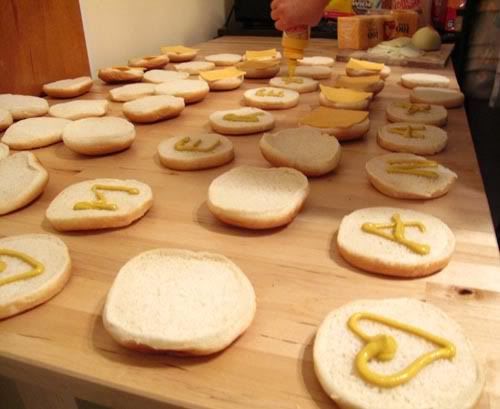 Great job on the mustard!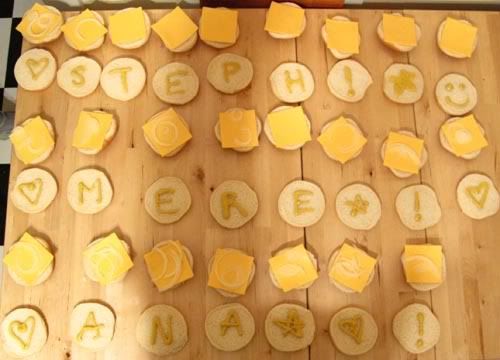 Instead of adding cucumbers to the sandwich this time we added some fresh spinach. It gave the sandwiches great color, vitamins and freshness.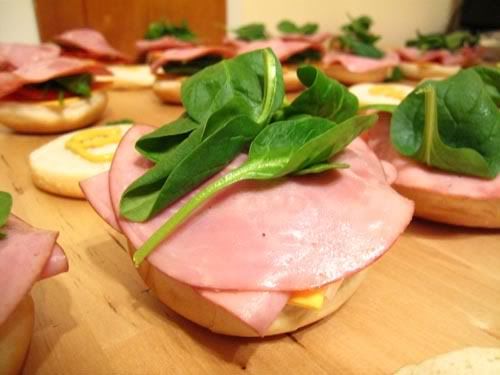 Stephanie couldn't go to deliver the lunches with us, but she did an excellent job helping us, we really appreciate all her hard work! Thanks Stephanie!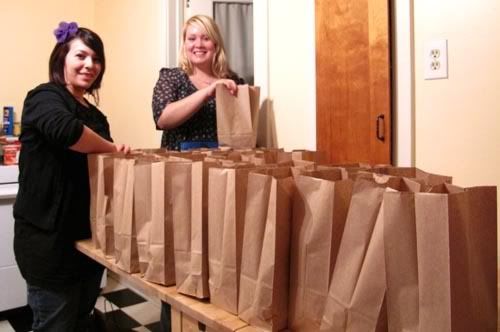 Then it was off to downtown with Ana. We made 24 lunches this week and were excited to start handing them out. We drove passed the blanket community and it was not there. The blankets were removed and all the people were gone. Next in another familiar area, the people living there had relocated. Luckily we were told where one of our friends had moved to.
This particular person always lets us know the situation of the area. She was there with an older gentleman sleeping just a few feet away from her. She told us it was her uncle and that they have both been sick from the rain. All of her blankets that she normally shields herself from the cold with were soaked. As a result of the rain and wet blankets she had "a touch of hypothermia". She has some health issues that she has let us know about, we appreciate how honest she is with us. When she tells us of her medical history and the things she has dealt with for many years it helps us to know how we can customize her lunch.
The more we gain the trust of our regular Lunch Bunchers the better informed we are and the more we can help with specific issues. We can really feel just how important our weekly meals and visits are.
This week we handed out the lunches a bit later than we have in the past few weeks. In some ways it is better during the day, more people are out, more light and a bit less stressful. On the other hand in the evening we know usually where all of our friends are. Knowing where someone stays for the night makes it much easier to deliver the meals. Sometimes if we are too early we miss some very important people. This week was nice to have a dinner service and see some sought after faces.
Thank you again for all your help our fabulous volunteers!